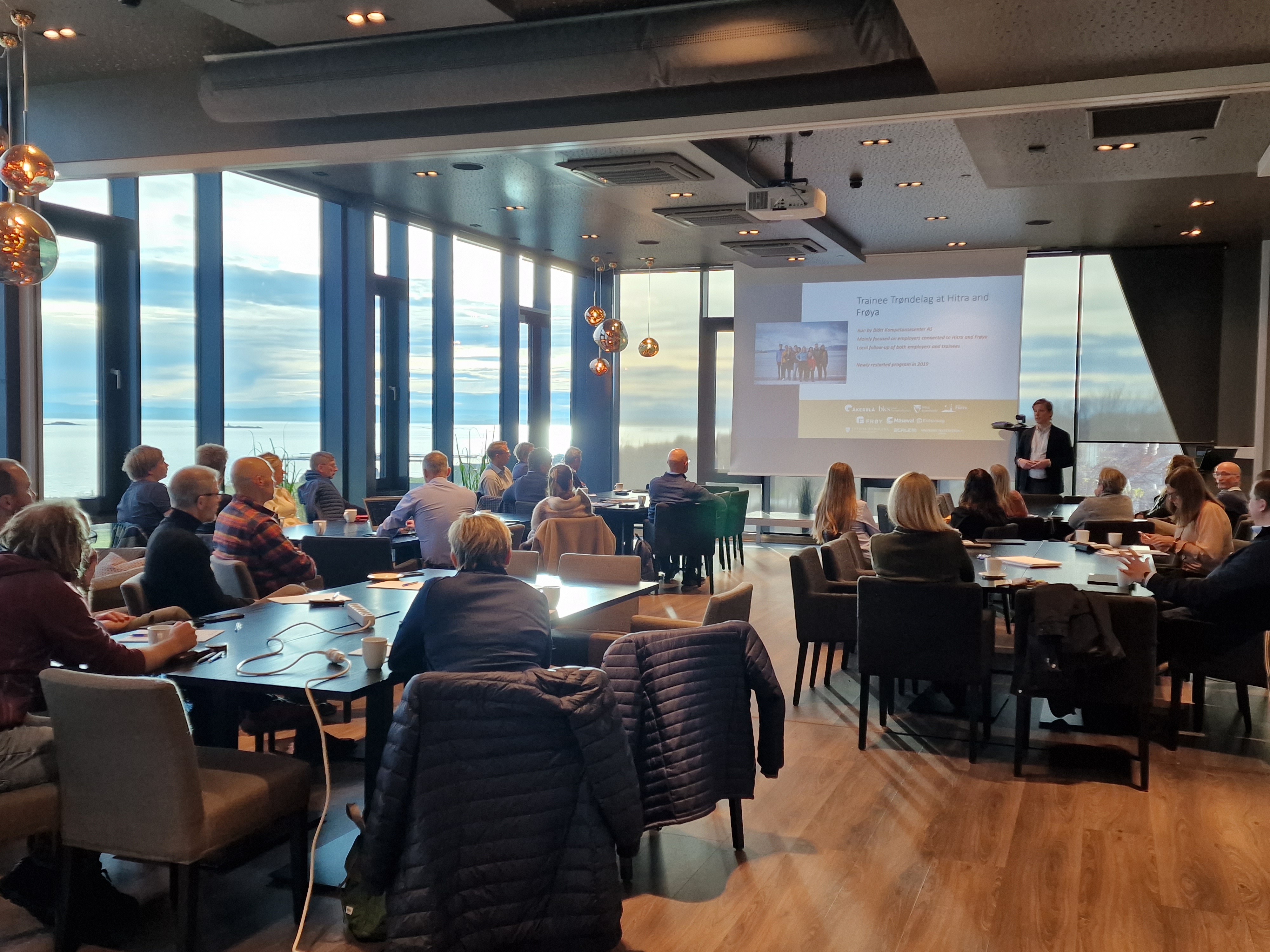 Artificial intelligence in the aquaculture industry - how will it affect everyday work and educational needs?
SalMar and Blue Competence Center (Blått Kompetansesenter) organized the "Aquaculture Skills Foresight Forum" at Hotell Frøya with a view over the Blått Kompetansenter building, Guri Kunna secondary school and their fish cages.
ASFFs have so far been held in central Norway (Frøya), Åland (common for Sweden and Finland), in Reykjavik and northern Norway (Finnsnes), the latter in collaboration with Blått Kompetansenter Nord.
ASFF is where standards are set for what future aquaculture employees must learn at school, in the local community and internationally, based on the industry's direct feedback.

Digitization and sustainability were central themes and are the common thread that connects this iteration of ASFF to the rest of the Aquaculture Week 2022.

This fall's theme: Artificial intelligence in the aquaculture industry - how will it affect everyday work and educational needs?
• What do we see coming?
• In which areas is it relevant to develop "artificial intelligence"?
• What challenges do we see?
• What competence requirements will it place on operators?
• How will AI change everyday work and education?
Over 30 participants from the farming industry and their suppliers, training offices, innovation companies and schools contributed input for measures for these themes.
Highlights from industry feedback and workshop discussions - What can we continue to work on both at an educational level and on the dynamics between school and industry?
• More practical training around data handling is needed
• Students should gain a greater understanding of why it is important to have correct data handling > attitudes to data handling
• Concrete ideas around tasks for students were discussed, e.g. tasks around the use of Excel aimed at BarentsWatch.no
• "Teach the basics" so that future aquaculture workers can more easily adapt to new technologies and systems
• Industry, including the suppliers, should continue to collaborate with the schools by offering up-to-date technology and practical training in this regard to the students, so that the students are up-to-date on what is happening in the industry. This should make the use of resources more efficient and provide added value for schools, industry and students
ASFF is a forum for the exchange of upcoming competence requirements in aquaculture at upper secondary and vocational school level in the Nordics and is one of the measures that emerged from the EU project BRIDGES. The BRIDGES partners, who represent aquaculture companies and educational institutions from Norway, Iceland, Sweden and Finland, participated in the fall's ASFF at Frøya. In connection with the AI ​​and digitization themes from this iteration of ASFF, the partners met with Eidsvaag and ScaleAQ to learn more about aquaculture suppliers' future skill needs.
Aquaculture Skills Foresight Forum, Frøya 2022 Program
0900-0915 - Welcome v/ Elisabeth Nordin Blått Kompetansesenter (BKS) and Asgeir Johansen v/ SalMar

0915-1015 - About "artificial intelligence" and examples of its use in fish farming

at 0915 NTNU, Anna Solvang Båtnes: AI in aquaculture

at 0930 NTNU, Thor Hukkelås: Aquaculture cybernetics and application of artificial intelligence and algorithms

at 0945 Sintef, Sveinung Johan Ohrem: Aquaculture robotics

at 1000 Åkerblå, Eirik Johansen Bjørgan briefly about Åkerblå, remote medicine and a small proof-of-concept we have on image recognition




1015 Marine Metall, Roar Landevaag "Material selection for aquaculture in light of sustainability and life cycle cost"

1030 BKS/Trainee Trøndelag, Thomas Gjedebø:  Regional Trainee Programs - How to engage and recruit students in the Aquaculture Industry

1040 -1100 - Coffee break and mingling

1100-1120 – A short summary of results from previous ASFFs from Asgeir Johansen v/ SalMar, Lilja Gisladottir v/ University of Akureyri, Antti Forsmann v/Livia College, Daniel Krång v/ Gullmarsgymnasiet I Lysekil and Ingeborg Myrind Bekkavik

1120-1300 – Workshop. AI and digitization in blue-collar industries. What will it mean for the future of blue education and for blue jobs? How can we make cooperation between the farming industry, suppliers and educational institutions more efficient?

1300 – 1400 Lunch and mingling